Hello Students and Parents!
I had so much fun seeing all you students at our Class Google Meet Ups on Thursday and Friday! We will have two meet ups a week that all are invited to. These are scheduled for Monday at 10:00am and Friday at 1pm. Smaller group meet ups will happen other days of the week. Please see the sign up genius and sign up for a time!
http://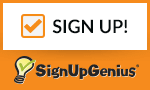 See our amazing class project! Get ready to start bidding at the online auction!
"Wood Block Collage"
This statement-making wood wall art features colorful wood blocks in various shades of blue, hand-painted by Mrs. Martin's 4th grade class. This mosaic adds texture and dimension to your walls, with varying heights of the blocks increases visual interest. The piece is 17 inches by 28 inches with a pine frame. This could be the showcase piece of art in your house!
Here are a few videos to preview some of our learning this week:
The videos might ask you to put in your name. Just use your initials and click start at the bottom of the page.
All of your classwork is now listed on our Google Classroom! Check every morning on Google Classroom to see the work for the day. Stay Happy and Healthy!
Best to you and your family,
Ms Martin